You are invited to the ....
2017 Fabric & Friends Annual Luncheon and Live Auction
QUILTERS With HATTITUDE
Saturday April 1, 2017 - 11am - 3:30pm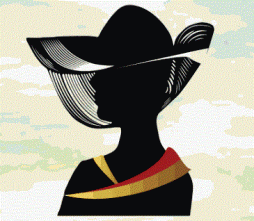 $50.00 per person ($23.00 of which is tax-deductible)
Arvada Center for the Performing Arts - Arvada, CO

You are invited to our 21st annual Fabric & Friends fundraising luncheon with live and silent auction.
This year's theme is "Quilters With Hattitude" and we will have some new and exciting opportunities to participate this year! Wear your finest bonnet or your best beret. Attendees will vote for their favorite hat and there will be a prize for the quilter wearing the winning hat.

The cost to attend this event is $50.00 per person. Registration is required. Please provide any guest's name, email, phone number, address and meal choice (either Salmon, Chicken, or Shells Florentine). Indicate seating preferences if any. Please RSVP for this event by March 28th, 2017. To RSVP call the RMQM Gallery at 303-277-0377 or online on our event checkout page.

MENU

The Fabric & Friends Menu includes a Chef's Choice Salad, Fresh Rolls & Butter, Decadent Desserts, Cash Bar and one of three of the following entree choices;

1. Grilled Alaskan Salmon served with a tequila apricot glaze and wasabi mashed potatoes
2. Chicken Saltimbocca, chicken breast stuffed with proscuitto ham, tomatoes and provolone cheese with a Madeira wine sauce, served with a creamy onion risotta
3. Shells Florentine, jumbo shells filled with ricotta cheese on a bed of spinach, topped with marinara sauce



WE ARE NOW ACCEPTING DONATIONS



RMQM is now accepting donations for Fabric & Friends 2017. We accept anything new or like new. Some examples of items we accept include; quilting items, fabric, jewelry, purses, experiences (hosted dinner for example/weekend in a cabin), food, gift certificates, and much more. Please call 303-215-9001 if you have questions regarding donations for Fabric & Friends. Donations of items are tax deductible.